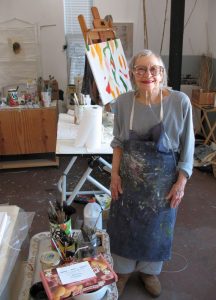 On Saturday, September 8th, from 4 PM until 6 PM, a reception for the alcove show featuring the work of renowned Taos painter, Ann St. John Hawley, will be held at Starr Interiors, 117 Paseo del Pueblo Norte in Taos, New Mexico.
Ann St. John Hawley 1919 – 2010
As an artist, Ann St. John Hawley produced a prodigious number of pieces of art ranging from oil and acrylic portraits, landscapes, water colors, pen and ink figures, block and mono prints, Sumi and Butoh drawings to ceramic pots and wood sculptures. Her goal was to communicate through her artistic medium the divine dance of nature, color and form. For Ann, everything she saw around her inspired her to reach for new and different forms of artistic and spiritual expression. That included new ideas, new thoughts and philosophies. She never grew old in spirit, constantly involved in taking classes, whether in drumming or in the study of world religions at the University of New Mexico, often attending lectures, relishing the mysticism in religions. All of this provided more inspiration for her painting.
Ann is not only remarkable because she was a working artist until the end of her life in 2010, nor only for the amazing collection of work she produced while being the mother of six, but for her spirit which permeated all she did. Her work encompassed a wide variety of expression, constantly evolving as she was.  Although never proclaiming herself as a philosopher, she was. In a quote in Fifty and Beyond; New Beginnings in Health and Well Being, here's what she said about creating anew, "I also like chaos. You have to have some chaos in order to find a new way. Although it's painful and you feel lost, out of chaos comes some kind of direction or insights – something new emerges." She never stopped searching for that something new.
She was loved and cherished by family and her friends. Friendship with Ann has touched all who have ever received the warmth of her smile, seen the twinkle in her eye, never to be forgotten. Her extensive body of work is the legacy she left to everyone who comes in contact with it. It represents, more than anything else, the freedom of spirit that was the driving force behind her every artistic expression. Although her paintings are a legacy to the world, the friendship I had with her is my own personal legacy. Having this opportunity to honor Remarkable Women of Taos throughout this summer with alcove shows at Starr Interiors, this upcoming show of Ann St. John's paintings is the culmination of that theme. This is a tribute to her work and an honor for me and for all of us at Starr Interiors. She was truly a Remarkable Woman of Taos.