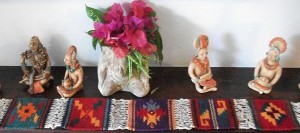 These beautiful 100% wool coasters can be used individually for coffee, tea or cold drinks as a protection for your wood or glass surfaces. They can be purchased in sets of six and can also remain attached, to be used as wall hangings for that special narrow area.
As Christmas presents or house gifts, they are lasting as well as non-breakable (our kids use them as doll house rugs). They are part of both the Folkways and the Line of the Spirit™ collections.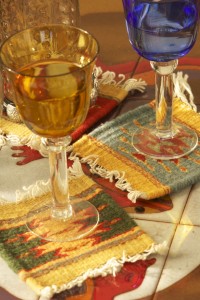 Over the course of many years, customers have been buying these cool coasters for themselves as well as for beautiful gifts. They are not only completely functional as conventional coasters but, used as a wall hanging, work very well in decorating that narrow space where nothing else will fit.
Completely hand-loomed of 100% natural wool, they are made exactly as all our other rugs, wall hangings and pillows. There's no compromise simply because they're woven on a small scale. Whether you want a suggestion of Southwestern décor or simply appreciate them for their purpose and design, they go far beyond conventional massed produced coasters, providing the important handmade look with the warmth of wool at an affordable price.
Virtually impervious to stains, they will absorb whatever moisture may be at the bottom of a glass or cup. If something spills on them, it's easy to immediately wipe it up with a wet sponge.
These coasters are made using fair trade type practices where the weaver and the village both benefit from their sale. They are available in three categories. Minimum orders are six in each category. Because they are handmade, each coaster will be somewhat different and designs will be assorted. The Line of the Spirit™ coasters costs slightly more because they are part of our own designer collection.
Descriptions: