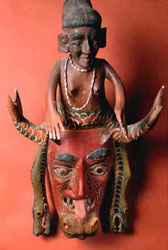 These hand-painted Oaxacan wood carvings range from smaller fantasy inspired masks as well as angels and Mexican Jaguar masks.
They are used in the states of Guerrero and Oaxaca in rituals that date back to pre-Columbian times.
The large, collectible wall masks depict extraordinary anthropomorphic pieces up two feet in height.