by Susanna Starr
Having just returned from a visit to the weaving village, the images are strong in my mind. For some time my family of three grown children have been talking about getting together in Oaxaca when we did our next buying trip. Although they've come down to the weaving village individually as children and young adults for many decades, this was the first time they came down together. At this point in their lives, work and time are difficult to come by, so we started making arrangements, scheduling the visit and noting it into their calendars, many months prior to the anticipated trip.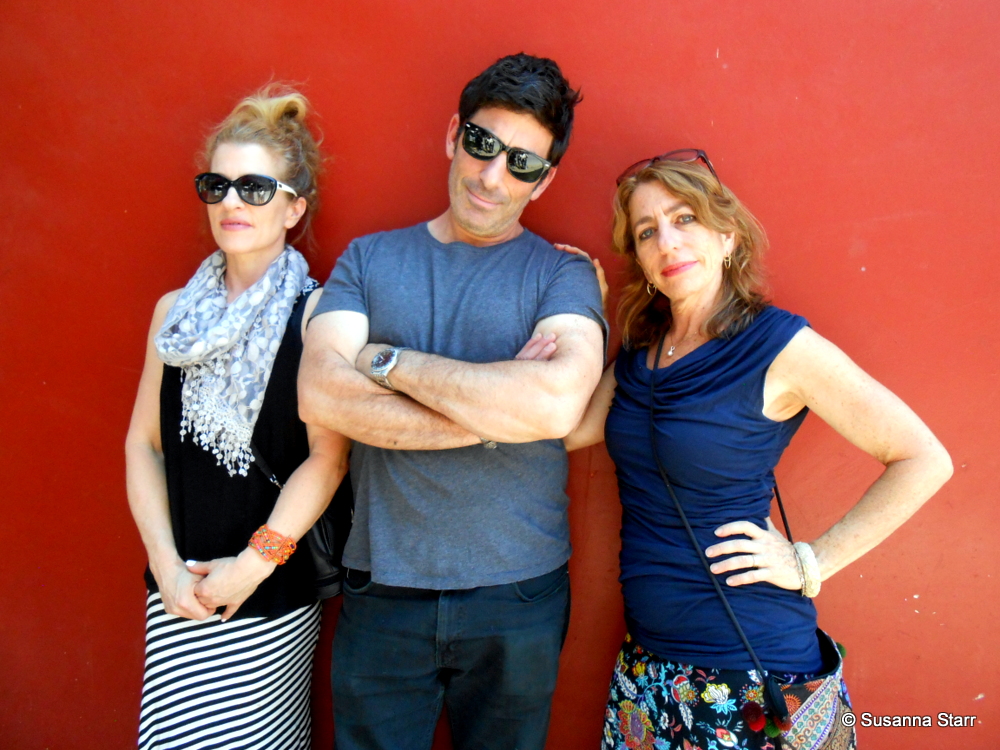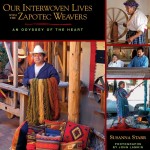 The Zapotec Indian culture is a rich one, with many thousands of years of enduring traditions. Of all the traditions, family is probably the most important of the underlying structure of this ancient culture. My partner, John Lamkin, and I had recently published a beautiful book called Our Interwoven Lives with the Zapotec Weavers: An Odyssey of Love (sales@Starr-Interiors.com) which tells the story of my more than forty years of working with the same families in the village. John's beautiful photographs accompany that journey. In it, I trace three generations of families that I've been so close to, as well as photographs of other weavers I've been working with, especially on the Line of the Spirit™, a special designer collection that has been an important part of what we do for more than twenty-five years.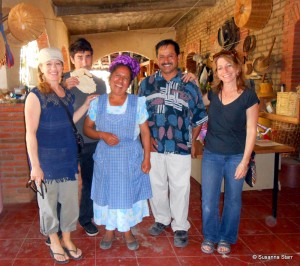 Having Mirabai, Amy and Roy accompanying us to visit each of the weaving families was not only important to the families, but to our family as well. When Roy and Rosario Mendoza met again,  thirty years had passed since they both were living in the Mendoza house in Oaxaca. but there was no problem in recognizing each other. Mirabai and Amy were down more recently, sometimes with their own children, but now there were not just two generations, but three. As close as I am to the original families and their grown children, it's this third generation, the same age as my own grandchildren, that are moving beyond the life they were born into, while still honoring and practicing the cultural values that have continued for so many generations before them.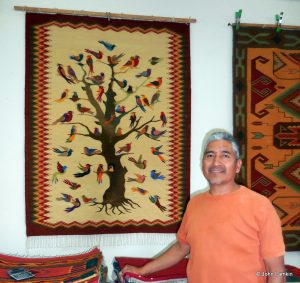 Now, through the hard work of their grandparents and parents, they have been afforded educational opportunities never before available to preceding generations. Although many of the young people of this age are still weaving, those who have been given the opportunities to study at universities are continuing on to become doctors, dentists, and studying for other professions.
I feel as proud of their accomplishments as I do those of my own grandchildren. The ties we have are strong ones and having our families together during this time was evidence of the warmth and friendship that goes far beyond just a working relationship. Living in the village, waking up to the sounds, visiting the market to buy our flowers and fresh produce, visiting the families we work with, having lunch at El Descanso and at Tierra Antigua with the Montaño families was joyful…and memorable.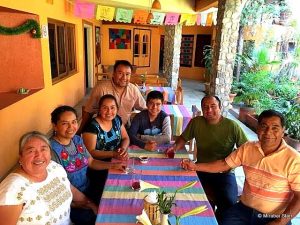 Also memorable, was the evening we spent at the home of our good friends, Florentino and Eloisa Gutierrez. Their son, Juan Cristobal, who studied audio engineering in California, has put together a band and at Mirabai's urging, decided to perform a concert for us. It was held in their spacious courtyard, with luxuriant flowers and plants providing the perfect backdrop for the concert. And, the younger Fidel Montaño was the lead singer. Writing their own music and lyrics and accompanied by a few other members of the band, the concert was outstanding.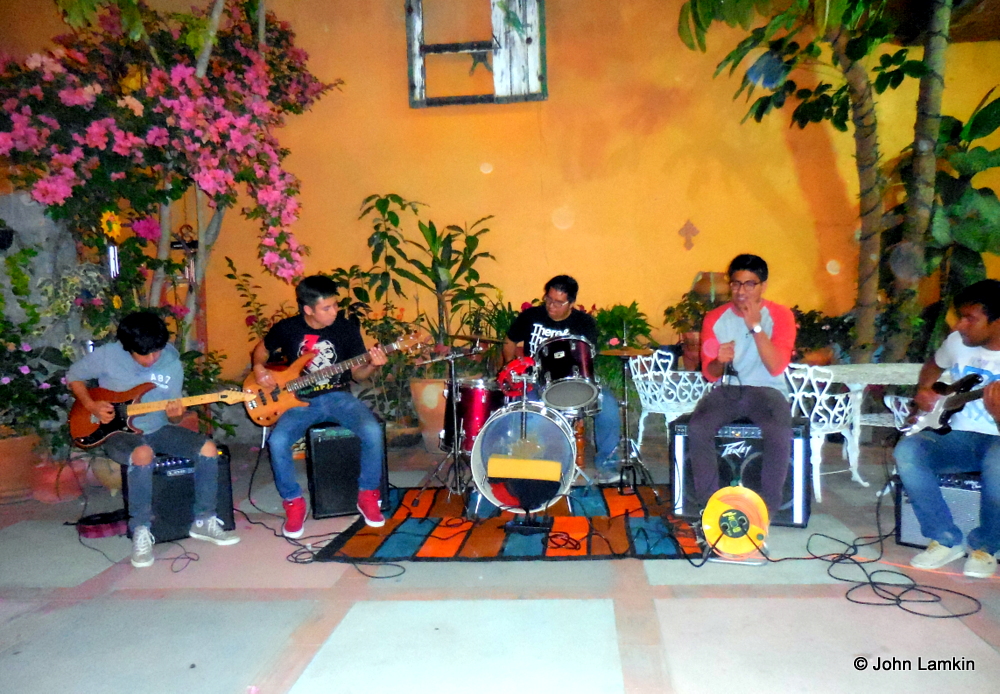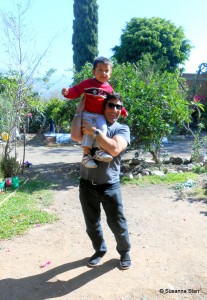 We spent important time with Alta Gracia, the dyemaker for Line of the Spirit™ since its inception and with her son Jaci and his wife Soledad. We visited with the wife of Felipe Lazaro who passed away recently and bought some of her specialties of roasted pumpkin seed bars, amaranth bars and light wafers and exchanged warm embraces. We visited with Maria and Eloisa Bautista whose recently married son, Jacobo now is following in the footsteps of his parents who have been part of the Line of the Spirit™ team since it began, more than twenty-five years ago when he was just a baby. Our family meeting with Jovita and her brother, Valentino and his wife, was affirmation of the ongoing relationship of our families, as it was with all the Line of the Spirit™ weavers.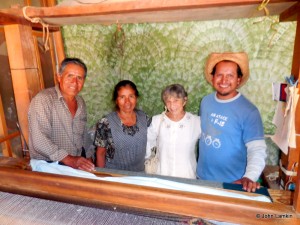 Having lunch at Tlamanalli, the acclaimed restaurant of world-famous chef, Abigail Mendoza, and her sisters, was another special event. In the kitchen, we cried together with their mother, Dona Clara, who lost her son Arnulfo, one of the most talented artists the village has ever known and one of our close friends. In the beautiful patio, we enjoyed some of their famous dishes at the traditionally decorated tables. The embraces we exchanged were heartfelt.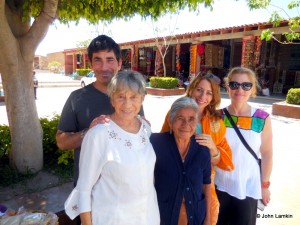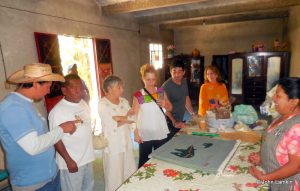 Yes, this was a memorable visit, a testimony to what business can really bring as its reward. We have all prospered and its always a joy to see how the entire village has also prospered over these decades. But, always, its the personal relationships, the warmth and genuine caring, the being part of an extended family that is the real bonus. This is as much a part of our connection as anything else that we continue to be involved in together. The weavings they produce and that we sell to our clients who provide a home for them where they will be enjoyed and appreciated completes the circle. But the heart connection is what cannot be seen, just felt, and what endures.