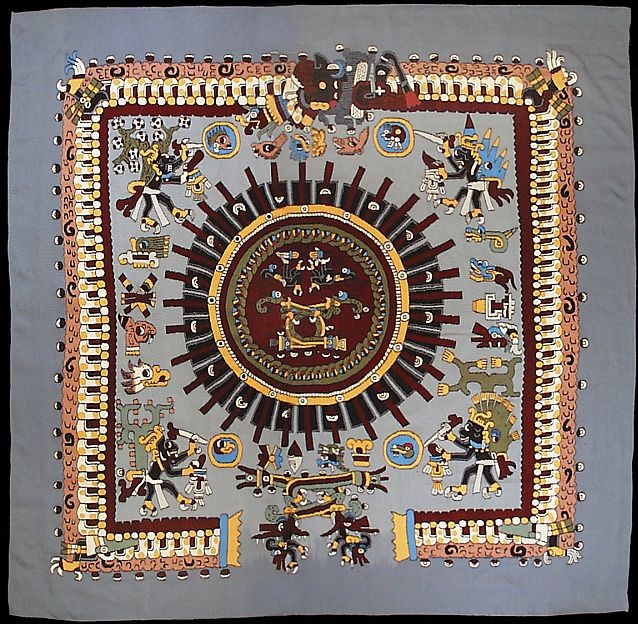 PRIVATE COLLECTION OF PRE-COLUMBIAN DESIGN WEAVINGS
BY MASTER ZAPOTEC WEAVERS NOW FOR SALE!
We are now offer­ing for sale our museum qual­ity pri­vate col­lec­tion of these weav­ings. There are about fifty pieces in this col­lec­tion and we will sell them as a group or individually.
Accord­ing to Susanna Starr, Starr Inte­ri­ors owner,
"This amaz­ing col­lec­tion of some of the finest weav­ings to have ever been pro­duced in the Zapotec Indian vil­lage of Teoti­t­lan del Valle is now being offered for sale, either as a com­plete col­lec­tion or by the indi­vid­ual piece. They were pro­duced in the late nine­teen six­ties and early nine­teen sev­en­ties by three mas­ter weavings.
Emil­iano Men­doza, who passed away in 1990, wove some of the finest inter­pre­ta­tions of images from var­i­ous ancient codices, pri­mar­ily the Bor­gia codex. The com­plex­ity of each piece and the per­fec­tion of their exe­cu­tion reflects the pride and ded­i­ca­tion of this impor­tant weaver and out­stand­ing human being, hon­ored in his vil­lage as Mayordomo.
His son, Arnulfo, a mas­ter weaver in his own right, worked with his father to pro­duce what could be deemed the most valu­able piece ever to have come out of the vil­lage. Mea­sur­ing 9'4"x9'4", this piece is done in angora wool, in the finest detail pos­si­ble on a loom. It is the Rit­ual Sequence from the Bor­gia Codex. His own weav­ings from the sev­en­ties are taken from his orig­i­nal paint­ings in his own dis­tinct style, but done with the same amaz­ing atten­tion to each detail.
Isaac Vasquez, another acknowl­edged mas­ter weaver is also rep­re­sented in this col­lec­tion. Now in his eight­ies, he is not weav­ing much any more. His work, how­ever, appears in many col­lec­tions and has received recog­ni­tion for many decades both in the United States and Mexico.
I started col­lect­ing these weav­ings indi­vid­u­ally over a period of about ten years dur­ing the nine­teen eight­ies know­ing, even at that time, that they would never be done again. They were never woven for the mass mar­ket but, rather, as an artis­tic expres­sion of the indi­vid­ual mas­ter weavers, being sold to col­lec­tors who could appre­ci­ate their intrin­sic value.
The many pieces of the Men­doza fam­ily were acquired grad­u­ally and I remem­ber vividly pur­chas­ing the orig­i­nal images of Arnulfo's paint­ings that he had given to his father, don Emil­iano, who decided to sell them to us under very emo­tional cir­cum­stances. He obvi­ously was very proud of them and they were espe­cially mean­ing­ful to him.
Now the time has come to divest myself of this amaz­ing col­lec­tion and, for the first time, offer them for sale as a com­plete col­lec­tion or on an indi­vid­ual basis. They are a trea­sure, as they tell the story of ancient cul­tures of the Amer­i­cas before the arrival of the Span­ish. The codices that inspired these weav­ings are the only ones to have sur­vived the Span­ish con­quest, the oth­ers being burned. To have them inter­preted in these amaz­ing tex­tiles has been a labor of love, prob­a­bly never to be dupli­cated indi­vid­u­ally and, def­i­nitely not, as a com­plete collection.
The Zapotec Indian cul­ture goes back many thou­sands of years. Many of the tem­ples that they built are still stand­ing, the most notable, Monte Alban in Oax­aca. They have pro­duced endur­ing work in metal and stone, gold and sil­ver, and jade. These weavings rep­re­sent a con­tin­u­a­tion of recorded art in fiber."
The photo above, an exam­ple of this fine work, was done by the late Emil­iano Men­doza and his son Arnulfo. The piece, woven in alpaca wool, took a few years to complete.