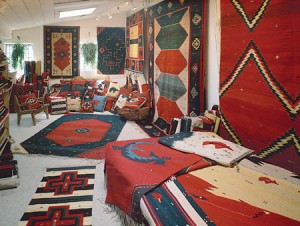 Starr Interiors has been known for almost 40 years as the source for the finest of Southwestern style contemporary and traditional Mexican hand made rugs. The three featured collections encompass the best handmade Indian wool rugs crafted by a carefully selected group of traditional Zapotec Indian weavers.
The Line of the Spirit™ is an exclusive designer collection using only hand-carded, hand-spun, hand-dyed churro wool to create individual pieces in a variety of colors and designs. Many cultures, from the American southwest to tribal nomadic designs from the mid-east, provide design inspiration. This unique collection is signed with a registered trademark insuring authenticity.
The Starr Gallery collection features the work of master weavers chosen for their skill and creativity in the use of unique colors, designs and quality to produce these fine traditional Mexican rugs.
The Folkways collection encompasses a range of small pieces from pillows to area rugs, table runners to floor runners at accessible prices.
All pieces from each collection are hand-woven with 100% natural wool. Because each piece is one-of-a-kind, sizes and colors may vary slightly.
Shipping of Weavings
All purchases are shipped UPS Ground with scheduled delivery 5 to 7 business days from date of shipment. All purchases are insured and shipping costs are based upon weight and value.